I was privileged last week to attend the Deshpande Foundation Development Dialogue here in Hubli where I am living and working now with the Sankalpa Rural Development Society – on rain water harvesting.
Professor Muhammad Yunus was the keynote speaker in this inspiring two day function.  Many like minds were brought together for the event and ideas and networking flowed thick and fast.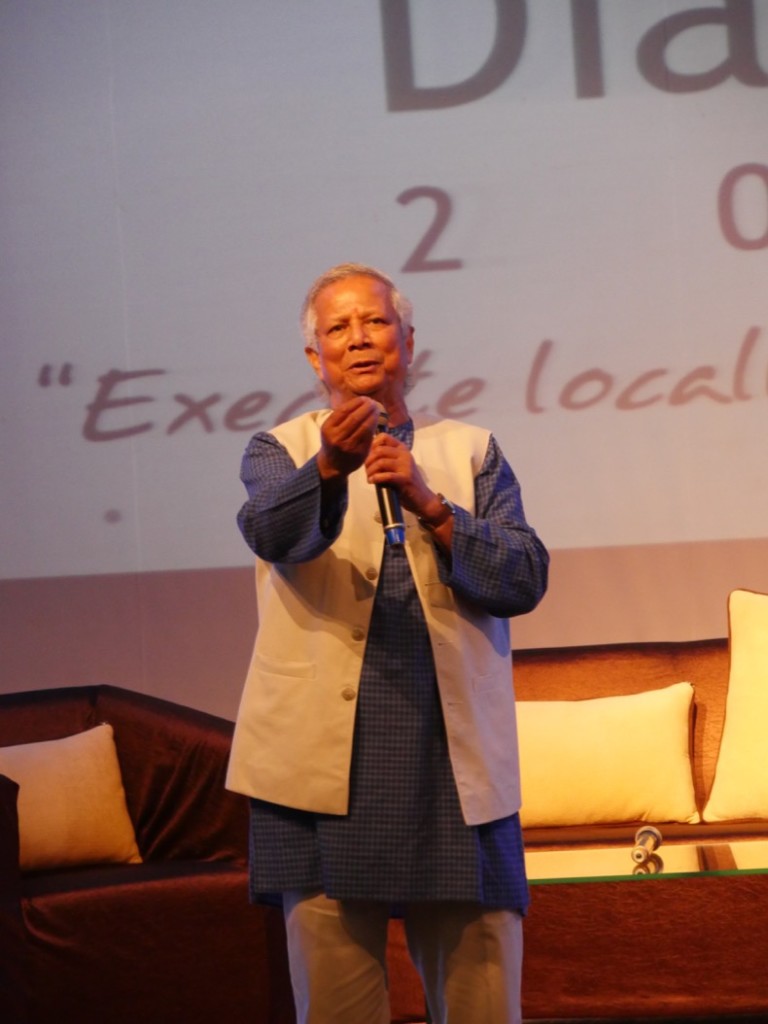 But this post is to share some snippets of what Professor Yunus had to share as it was very special and despite his work being with microcredit and perhaps you may say, nothing to do with water harvesting, I found so many correlations to be uncovered – and ideas and proven concepts that could be applied right across the board when working with the people who are financially disadvantaged.
He told us that when he first began it was not possible for him as a man to speak to the women of a village .. so he would need to send in his female students to the household, and then they would relay the conversations back to him outside.
At first the women were totally reluctant to consider the possibility of taking micro loans – many of them had never in their lives even handled money.
He told his students:  "Remember, when she tells her story – make her excuses – this is not her voice – this is the voice of the history that made her."
This statement resonated right through me.. as so many times I have discussed with people in the villages here their views on various things that to my 'foreigner' mind set seemed very difficult to comprehend.  But seen from this point of view.. as their history speaking – understanding deepens.  And as understanding deepens then my ability as a foreigner here in India is expanded – for it is only through understanding and really listening to the voice of the people with whom we are working that any change can be effected.
The second concept that Professor Yunus spoke of that touched my soul was this:
Poor people are like the bonsai tree.

There is nothing wrong with the seed

The potenial is there but the space in the soil is not.

All human beings have unlimited creative potential.
Thank you Professor Yunus for a wonderful and uplifting talk that showed us so clearly that we can all make change and do great work.