Plans change – projects shift and alter – the ego tries to hang on by its fingernails to the status quo but the Universe offers up something greater and grander than the small self could ever imagine.
It is impossible to cling to the passing of the old as the new barrels toward you.
A simple phone call – from one of the best connectors I know – Mrs Maya Shahani of the SAGE Foundation – who picked up her phone and phoned a friend. A friend who she knew was involved 'somehow' in water harvesting.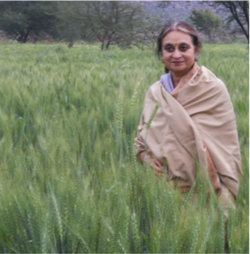 The very next day we were on our way to visit with Mrs Amla Ruai of the AAKAR Charitable Trust who was to spend an information packed two hours with us sharing all she could about the work she has been doing for the past 8 years – building check dams with the involvement and cooperation of the villagers in over 150 locations – mainly throughout  Rajasthan with some in Maharasthra. (see her picture right courtesy of the AAKAR website)
She showed us her latest tool – guess what? A documentary on successful projects! It is professionally made.. in all the right languages – and freely available to us.
As she said to me: "Why spend the better part of a year making a documentary when you can use this one, and get on with the work immediately?"
I could not fail to agree with her.
This post is brief – just to let you know the new direction is forming – on the 15th September we will journey with her to Aurangabad where she will take us to visit some of her projects and I shall see first hand the results of her work.  Stay tuned for photos and figures.. the results are astounding.
Amla is more than generous.. with her information and her tools.  There are already three villages on the horizon who's water supply can be built and developed in the method of check dams.  She has a working existing team who can also be shared.
Can you imagine – my mind is reeling, and my heart singing to meet such a kindred spirit who has such a love for Mother Earth as I do – and at the same time the tricky human mind asks: "Isn't it supposed to be more difficult than this?"
Yes – I have been clearly told that doors will open and all will be come so this work can be done.

But hey .. How fast is that?!